Camp Programs
Survivor Expedition Camp
Duration
3 days, 2 nights; or
4 days, 3 nights
Inclusions
All meals
Hiking pack, tent, cooking equipment
Make life-long memories in the outdoors
Pack your backpack, slap on sunscreen and lace up your boots: it's time to go camping… REAL camping. Survivor Expedition Camp (Survivor X) is a fun-filled trek and camp in nature - helping students to work as a team. Students spend one night camping in tents under the stars and the other in our cabins at YMCA Camp Warrawee.
Outdoor explorers will wander through a safe expedition route to their overnight campsite, accompanied by experienced guides. They will learn how to pack a backpack, cook their own meal, set-up tents and canoe.
Expedition Camp is designed to develop students' essential personal and social capabilities such as communication, resilience, self-confidence, leadership, teamwork, goal setting, personal autonomy and initiative.
Who can book

for Survivor X?

Survivor Expedition Camp is suitable for students from Grade 6 to Grade 12.

Suvivor X can be booked by:
Explore the itinerary of Survivor X
1 night at YMCA Camp
Students will learn valuable life lessons through outdoor adventure activities during their stay at YMCA Camp Warrawee, including archery, low ropes, stand up paddle boarding and our meltdown challenge.
1 night camping in the bush
Embarking on their expedition journey, students will put outdoor learnings into practice – discovering facts about nature and navigating through the bush. These activities help students develop peer-unity and problem solving processes. Expedition campers will discover their own personal strengths and be encouraged to explore leadership skills.
Under the instruction of experienced expedition guides, students will be responsible for pitching their own tents and setting up camp for the night (including a campfire experience facilitated by our staff). Spending a night beneath the twinkling starry sky is a special memory many of our campers say they will always remember.
On the expedition, campers will swap hiking for canoe – having fun exploring the beautiful North Pine River.
We can also tailor the expedition programs to suit your needs and objectives.
Add Starlight Activites*
Survivor X includes eight activities with one-night tent camping and one night in cabins. You can add extra night activities for even more fun! Our recommended night activities include:
Astronomy: a tour of the sky
Dance Class: a multicultural dance experience facilitated by an external provider
Spot Lighting Walk: a guided night walk around Camp Warrawee, spotting nocturnal critters and learning about nature
Night Games: a selection of team games
Night Navigation: orient yourself using the stars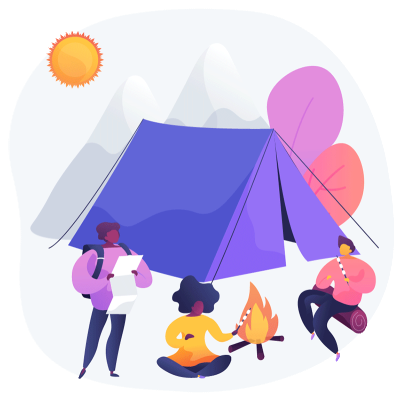 Price & Enquiry
Choose a school camp with great outcomes, for great value. The cost of Survivor Expedition Camp includes a 3-day, 2-night program with 8 activities and 7 meals, and features one night tent camping and one night in cabins.
Pricing can be adjusted to suit time and cost constraints. If Survivor X Camp has kindled your school's interest, contact us today for next steps.
1 night expedition (hike and canoe)
1 night at YMCA Camp Warrawee
2 breakfasts, 3 lunches, 2 dinners
Morning tea and afternoon tea daily
Hiking pack, tents, cooking equipment
Experienced expedition outdoor guides